Four Rivers receives National Inclusion Project's first-ever nature center accreditation
11/14/2023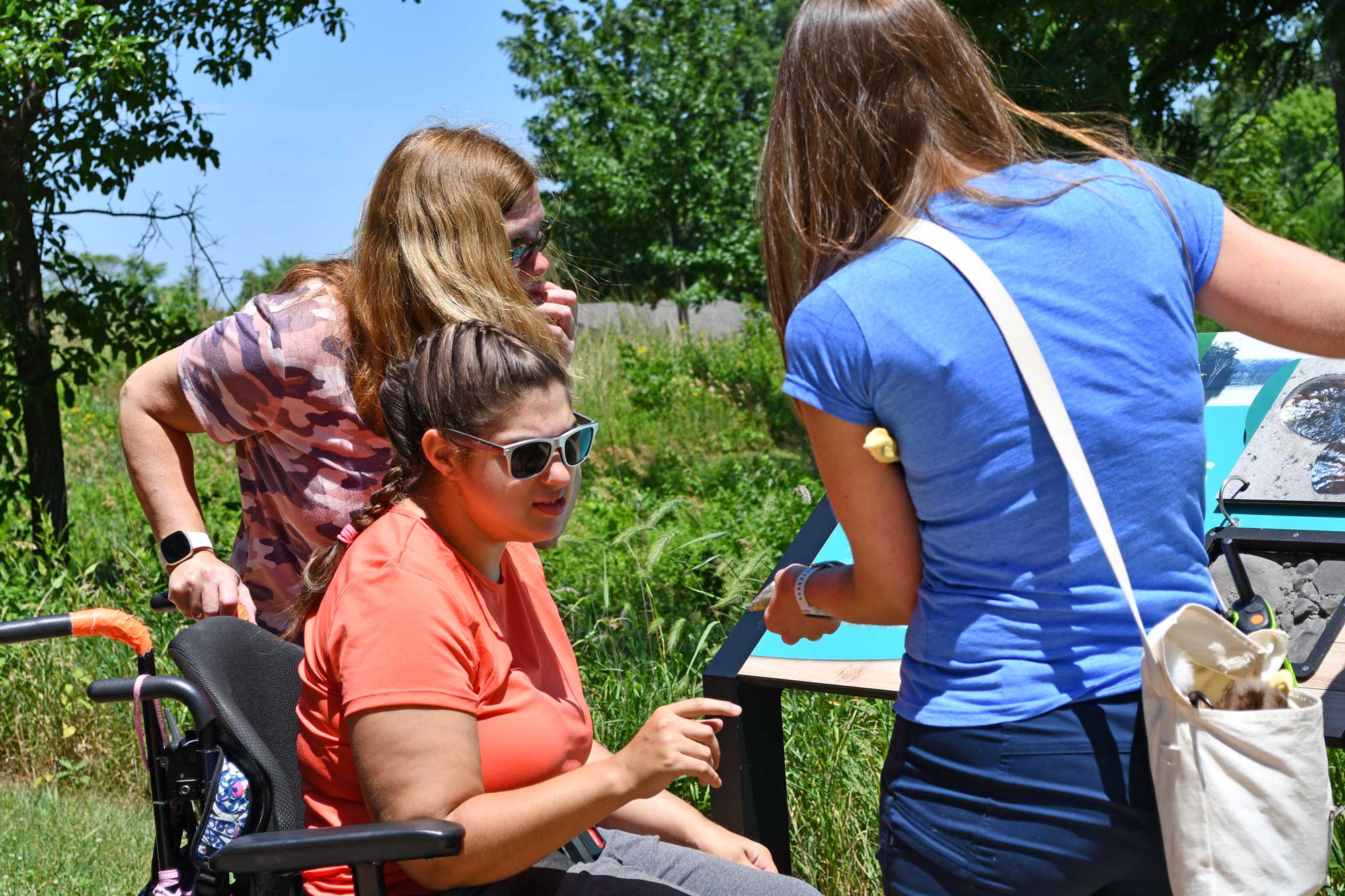 The National Inclusion Project's first nature center accreditation in the country has been awarded to the Forest Preserve District's Four Rivers Environmental Education Center in Channahon.
The National Inclusion Project Accredited Program status announced on Monday, Nov. 13, means Four Rivers has met the standards set by the organization for inclusive practices for individuals with disabilities.
"Expert review of written documentation, program materials, and on-site observation found that Four Rivers met the highest standards for including all community members," said Dr. Amanda Kloo, director of Inclusive Recreation at the National Inclusion Project. "Four Rivers is not only the flagship inclusion-accredited environmental education center in your community, it is the flagship inclusion-accredited environmental education center in the United States!"
The accreditation signals to everyone that " ... the personal enrichment, discovery, growth, health, wellness, connection and enjoyment of the world around us can be and should be accessible and inclusive of all."
Jerome Gabriel, the Forest Preserve's facility supervisor at Four Rivers, said experiencing the natural world shouldn't be reserved only for those who can easily access it.
"It should be a universal opportunity for everyone," he said. "The Four Rivers staff want every person, regardless of ability, to be able to interact with the exhibits, programs and educational opportunities that we provide to the public."
Welcoming of everyone
The accreditation process has allowed Four Rivers staff to learn what it means to truly be inclusive, and then use that knowledge to provide a better experience for visitors, Gabriel said.
"For families that may have been hesitant to bring a member out to Four Rivers, this accreditation can give them the peace of mind that this facility is welcoming of everyone regardless of ability level," Gabriel said. "They know their family member will be not only be welcomed, but will be able to interact with our exhibits, have trails to explore and programs to learn from."
The same is true for teachers and day program directors, he added.
Inclusion items at Four Rivers feature buddy bags, a quiet space, an All-Persons Trail, paved trails, an exhibit guide, custom communication/talking boards and easy-viewing spotting scopes.
Also, the site offers: a custom visual schedule creator; screen reader enabled PDFs; program/event accommodations; social story digital narratives for the facility staff and programs; live captioning during presentations; monthly Sensory Sunday programs; inclusive field trips for public, private, homeschool, therapeutic day school and adult day programs; and a pre-visit walkthrough video.
For more information on accessibility and inclusion at the site, visit the Four Rivers FAQ webpage.
Bridging the gap
The accreditation project was months in the making and was well worth the effort, Gabriel said.
"By completing the accreditation process, Four Rivers has shown that it is an inclusive destination and provides an experience where all visitors, regardless of ability-level, can participate," he said.
Kloo said the National Inclusion Project serves to bridge the gap that exists between people with disabilities and the world around them.
"Since 2003, the organization has worked with community groups and recreational programs, providing them with the training, tools and support needed to include individuals with disabilities in all activities and programs," she said.
For more information about the National Inclusion Project, call 919-314-5540 or email [email protected].