Mission
In 1981, the Board of Commissioners approved a resolution to establish a police department to enforce the District's General Use Ordinance. The police department's mission is to safeguard the visitors, employees and properties of the Forest Preserve District of Will County. Protection of properties includes the District's natural and cultural resources and its wildlife. The department also enforces the District's administrative policies relating to public use of forest preserves.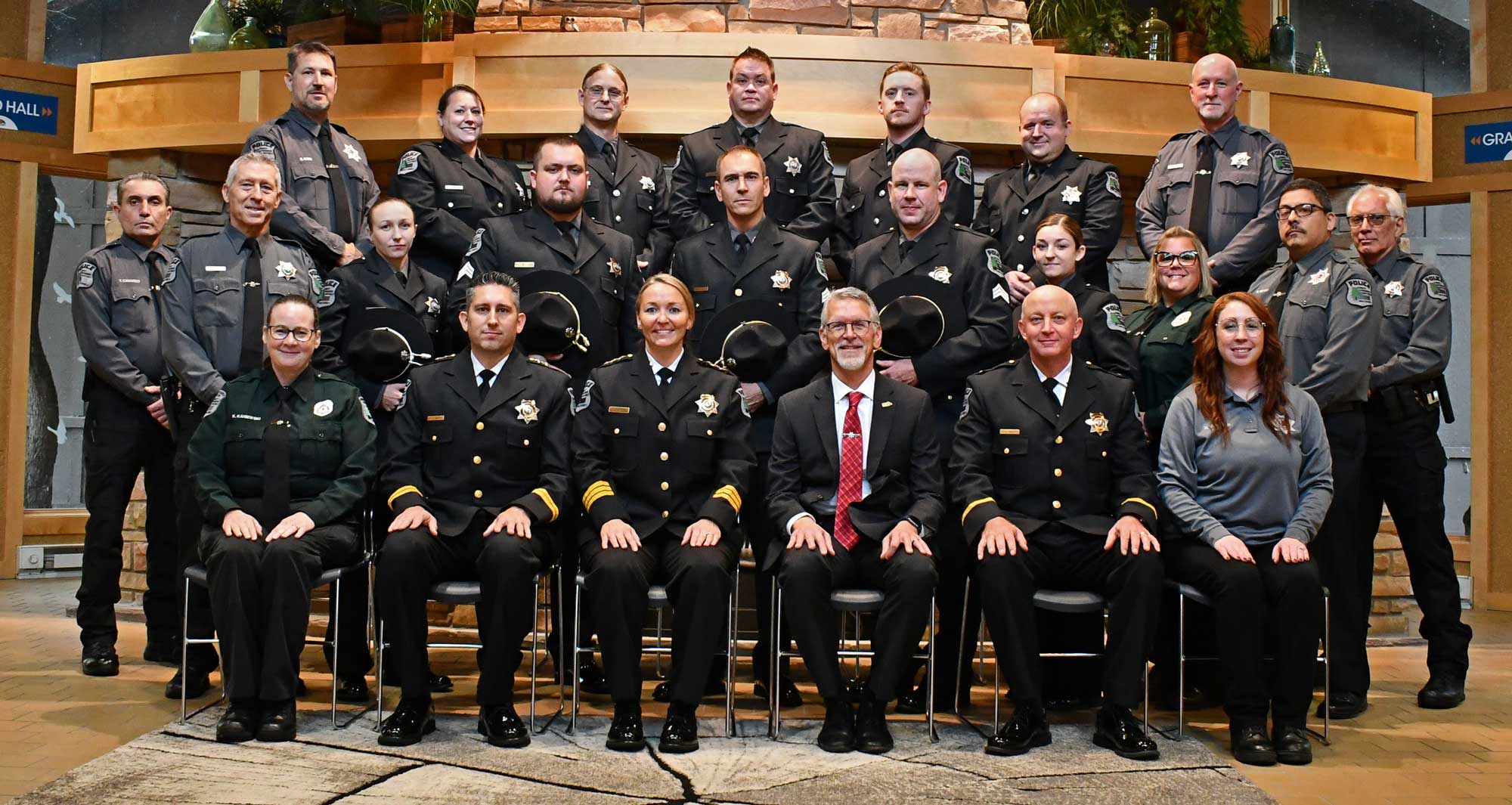 (Photo by Chad Merda)
Training
District police are trained Illinois State Certified Law Enforcement Professionals. During the first two years of employment, all full-time officers attend several trainings including 40-hour basic investigations, 40-hour field training officer, 40-hour juvenile officer, and a 32- or 40- hour elective. Electives can include training for canine handler, evidence technician, conservation officer, drug interdiction and master firearms instructor.
Duties
Forest Preserve police investigate and handle complaints, issue citations and solve law enforcement problems in the preserves. This includes felony and misdemeanor arrests, as well as warrant arrests. They also organize crime prevention activities, recruit citizen assistance including the Forest Preserve's volunteer trail sentinel program, and conduct random safety checks on the Forest Preserve's 127 miles of trails to enhance the safety of users.
Patrol officers perform split duties such as canine handler, field training officer, juvenile officer, basic investigator, ATV trainer, conservation officer, master firearms officer/instructor, defensive tactics instructor and gang officer. Additionally, Forest Preserve police oversee and administer the District's Deer Management Program.
Community service officers
The community service officer (CSO) is a non-sworn civilian position that was developed to assist the police department's patrol division. CSOs perform dog park patrol and volunteer program duties. CSOs can also assist with vehicle lockouts and District events, and are easily identified by their green uniforms.
Assistance and mutual aid
The Police Department teams up with other Forest Preserve departments to assist with outreach and events throughout the year. District Police also work cooperatively with nearly all Will County municipalities as well as with the Will County Sheriff's Department, Illinois State Police, Illinois Conservation Police and U.S. Forest Service officers at Midewin National Tallgrass Prairie near Wilmington.
The Police Department has mutual aid agreements with ILEAS (Illinois Law Enforcement Alarm System) and Will/Grundy Major Crimes Task Force. The department also has memberships in the Will County Chief's Association, the Illinois Chief's Association, the International Chief's Association, Illinois Park Law Enforcement Association, Park Law Enforcement Association, National Police Work Dog Association, NEMRT (North East Multi-Regional Training) and Tri-River Police Training Region.
Zone Integrated Patrolling
The police department created Zone Integrated Patrolling (ZIP) to ensure that District preserves were covered efficiently. Officers are assigned responsibility for specific areas of patrol throughout the District. Officers and sergeants make contact with preserve visitors, neighbors and police agencies within their zones, and make themselves available for public meetings. ZIP officers build rapport which increases neighborhood involvement and public safety.
O-ticket system
Forest Preserve police officers have four enforcement options: written warning, O-ticket, local citation and state citation. O-tickets, which allow offenders to avoid court by directly paying the Forest Preserve District, are used for offenses such as dogs off-leash, after-hours preserve use, no dog park permit, parking violations, etc. O-tickets are used to reduce criminal activity by modifying unwanted behavior in the preserves. For more information on enforcement of Forest Preserve rules, see Ordinance No. 124.
How to pay or contest an O-ticket citation
Paying an O-ticket
If you have received a complaint for an ordinance violation in the form of an O-ticket, you may plead guilty and pay the fine directly to the District or you can contest the matter in court.
Pleading guilty
Furnish your driver's license number, ticket number and date you received the ticket on the card you were provided. Sign the Appearance, Plea of Guilty and Waiver. Make a money order or check payable to the Forest Preserve District of Will County for the amount written on your card or at the top of your citation. The original fine is due within 14 days of the citation date. If the fine is not paid within 14 days, the fine doubles. If payment is not received within 28 days, you must go to court.
To pay your ticket online, click the above link and follow these instructions:
Enter the PLC (Pay Location Code) – a003xf
Hit continue, then enter your citation number (the number in the top right corner of the citation). Omit any zeros or letters; for example, 0012345FP should be entered as 12345. You can pay up to 3 citations at a time.
Follow the instructions to pay. You will receive a confirmation code once payment has been accepted.
To pay by mail, enclose the ticket and money order or check in the envelope. Do not send cash. Enter your return address and appearance date and affix postage.
To pay in person, appear at the Forest Preserve Police Department's office, 22606 S. Cherry Hill Road, Joliet, between the hours of 8 a.m. and 3 p.m., Monday through Friday. For in-person payment, please wait three business days after the date the citation is issued.
Pleading not guilty
To contest a citation, you must appear in court at the time and appearance date listed on your citation. If you are found guilty in court, fines and costs in court will be no less than $250. If you do not desire to contest the citation, you must pay the fine. Failure to pay the appropriate fine will result in a mandatory court appearance or the matter will be sent to collections. If you receive an O-ticket, do not pay the courthouse, unless you appear in court and are found guilty.
Eyes, Ears, and Cell Phones program
As you head out to enjoy a day in the forest preserves, be sure to have the phone number for the Will County Sheriff's Dispatch programmed into your cell phone. If there is an incident, you will immediately be able to make a call when time matters. Using your "Eyes, Ears, and Cell Phones" can make all the difference. In emergencies, always call 9-1-1. But for non-emergencies, call the Laraway Communications Center dispatch at 815-727-6191, option 9 and ask to have a Forest Preserve police officer sent to your location in any Forest Preserve in Will County. Add this number to your cell phone contacts!
10 rules for preserve safety
Follow these 10 rules to help ensure your time in the forest preserves is enjoyable. Forest Preserve police officers are dispatched to all Will County Forest Preserves by the Laraway Communications Center regardless of where the preserve is located in Will County.
Travel with a partner whenever possible. Always tell someone where you are going and when you will return.
Do not leave valuables in view in your vehicle. Put them in the trunk prior to your arrival, or leave them at home.
Always carry your cell phone with you, and add our dispatch number to your contacts: 815-727-6191, option 9.
Know your location and be aware of your surroundings. If you listen to music, wear only one earbud so you can hear traffic and other trail users.
Wear a helmet and other personal protective equipment. Know trail conditions and if they are slippery, icy or wet. Always travel at safe speeds.
Be courteous to other trail users. Stay to the right on trails, except when passing. If you have to stop, move off to the shoulder.
Pass on the left, and give a clear warning signal before you make your move.
Report suspicious activity as soon as you see it.
Be a good witness. Get a description, location, direction of travel and license plate number when available. Report incidents immediately.
Know what time sunset is and be in your vehicle before dark. Forest preserves close at sunset.
Location
22606 S. Cherry Hill Road (located on the corner of Cherry Hill Road and Route 52) in Joliet.
For emergencies, call 9-1-1.
To have a Forest Preserve officer dispatched in a non-emergency situation, call 815-727-6191, option 9.
For citation, court and administrative questions, call 815-722-5473.
Command staff includes:
Chief Tracy S. Chapman
Deputy Chief David M. Barrios Jr.
Lt. James M. Pacetti
Sgt. Daniel J. Olszewski
Sgt. Matthew D. Yates
Sgt. Richard M. Lewandowski